Assess System Design
The design of our access system is very unique and due to its unique qualities not easily comparable to any other products on the market. The prototype was developed and successfully tested in 2010, and since then has gone through several upgrades to adjust to the newest technology requirements.
Utilisation
Primarily, our access system is well suited for buildings with numerous access sites and a high number of users; e.g. offices, hospitals, schools etc. The access system design is constructed to meet the top level of security, reliability and equally, simplicity.
Not suitable but ...
Our product will not be well utilised in buildings with very few access sites and handful of users; however, for smaller companies we will be able to meet your needs. If you are keen to benefit from the advanced qualities of our system, we are able to propose INSERT specific alteration(s), best suited to your company&acutes requirements.
How are we different
Production
As we design and develop our products in house, it empowers us to add additional functionalities to software and hardware, tailoring our product to your company&acutes needs.
Integration
Our access system is designed in a way to allow smooth integration with all information systems. All functionalities can be tailored accordingly. And so, nothing is an obstacle for us, no matter where you currently hold your users&acute access data - in the database, in a file, on the LDAP server or in any other data storage.
Integration process
We aim to prevent any disruption to the current BAU, and therefore we have designed our access system to allow a parallel run for a certain period of time. This approach provides our customers with confidence that the integration process will be managed in a controlled way, providing sufficient time to fix potential glitches that may be caused by the complexity or obsolescence of the current system.
Security
Security of our access system is managed using the latest NFC technology, which is widely used across the banking sector. This set of communication protocols offers to set the security level according to individual needs, and be upgraded or downgraded without fundamental changes to topology or hardware during its shelf life.
On-line Mode
The readers are in principle constructed as on-line, which means they are constantly connected to the network. Although they can be run in offline mode, we would recommend opting for the online solution, which allows us to use all the advanced capabilities of our access system.
Separate Modules
Our system&acutes structure consists of two separate modules. The reader&acutes module is located near the entrance doors; the main board&acutes module, to manage competently the opening of the doors, is typically placed inside the room or in other secure places. This concept strengthens security, preventing forcible entry to the room by physical destruction of the reader.
Upgrades
Our system upgrades can be managed remotely via the local network.
Flexibility
Our access system offers a great level of flexibility. Should you require an additional function our system does not have, we can modify it accordingly, if this is in line with its technical capabilities.
System concept
The Main Board
The module is the size of a one phase switch, and is fitted on a DIN rail that gets installed inside the room or in other secure places, and attached to an UTP cable to interface the internal LAN network. We recommend setting a new separate network for the access system. The main board is powered separately from the electronic lock with the possibility of unifying these power supplies, if they are sufficient enough. The main board also includes a relay that manages an electronic remote device for door blocking (e.g. electronic lock, gate, sliding doors ...)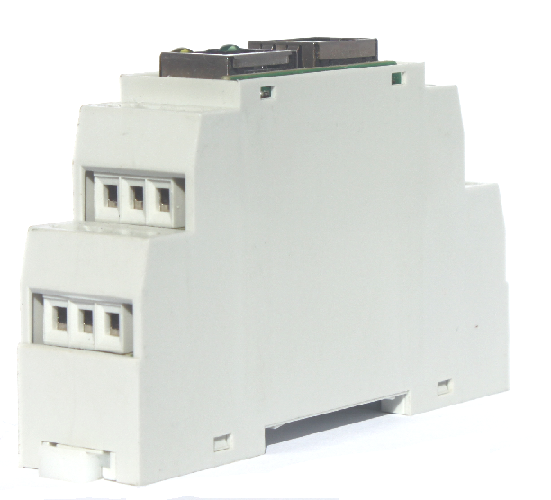 The Reader
The reader module is located near the entrance doors outside the secure room. The reader is connected with the main board via a data cable, which functions as its power. It also includes an e-link display, where required information is displayed (e.g. QR code, company logo etc...) and can be altered online to fit specific needs. The module display is RGB LED lit, allowing you to change colour settings accordingly, and it is incorporated with a PIE-changer for acoustic signalisation.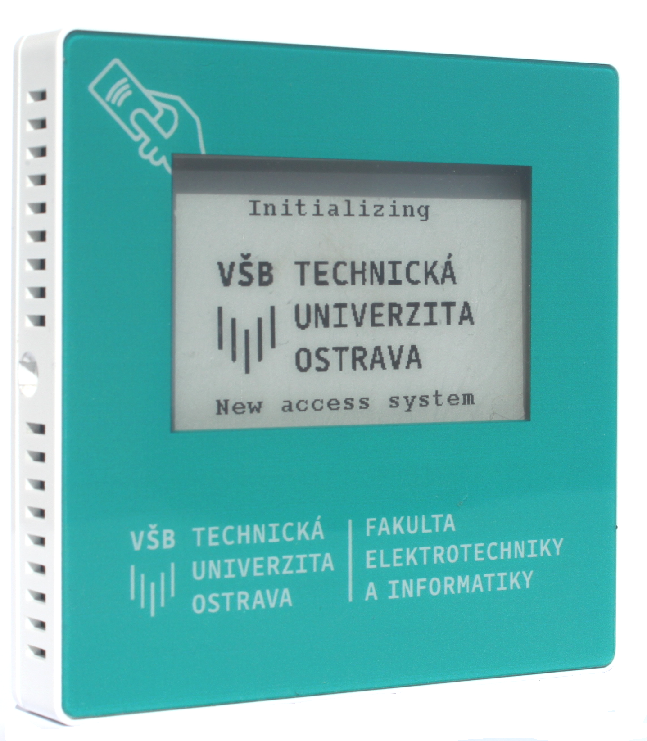 Software
When the reader is switched on it connects with the server to obtain its actual configuration. The reader works in a way that once an ID card is read, it connects with the server evaluating the user&acutes rights to enter. We are able to design and develop software for the reader and main board as well as software where requirements for access management are defined. We also support an option for our clients to develop the software themselves and integrate to their systems.
Custom modifications
The unique qualities of our system lie in its endless possibilities of modification. As an example can it be a requirement of one of our customers who asked to set the access rights on dialling a specific telephone number. For example, a customer&acutes access rights can be set by dialling into a specific phone number.. We have developed a program for an internet telephone and implemented it into the reader. This means that the reader acts as a telephone device; if a user dials in from a valid telephone number, the door opens allowing entry.

Another example of modifications to our readers we offer is the implementation of fire exit navigation. If a corridor is equipped with a sufficiently high number of the readers, in the event of emergency these can be switched on to enlighten a fire exit route. The light signalisation can be also accompanied with sound signals which is beneficial when corridors are full of smoke.

Our above examples highlight the possibilities that our system offers. Further modifications can be limited only by your requirements and technical capabilities of your current systems.
Showroom
If you would like to experience how our access system works, you are welcome to visit the Technology Faculty of the Banska University in Ostrava. The building is open to the public and we can assure you that the access system cannot be easily missed. We are happy to explain and demonstrate how our access system works. If you are interested, please get in touch.
Video